Afterglow: First Post, FIRST COW
Reflections on Cinema by Glenn Heath Jr.
Welcome to Afterglow, a newsletter dedicated to exploring films that defy convention and subvert genres. Thank you for subscribing! I know it's a hard time for everyone to think about anything other than the crazy news cycle and our current state of the world. But I truly believe that now more than ever, films and film writing can play a therapeutic role.
Also, be smart and wash your hands with soap, avoid large gatherings, and don't put yourself at risk. Oh, and watch some good movies while you have the time.
As a preview, upcoming newsletters will include my thoughts on films such as Never, Rarely, Sometimes, Always, Bacurau, and Sorry We Missed You.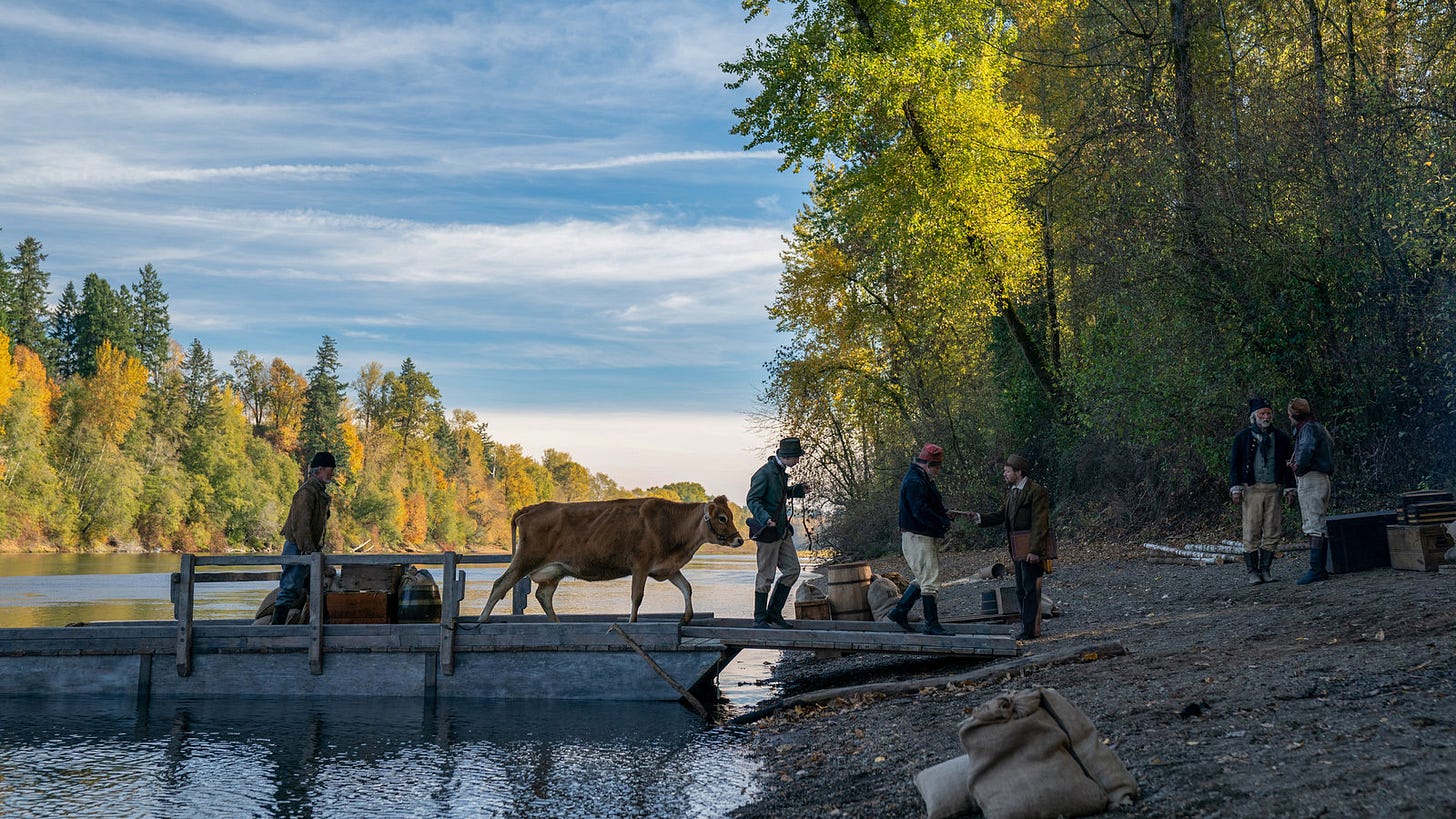 First up, First Cow
Nobody depicts the American wilderness quite like Kelly Reichardt. Hell, nobody depicts the American experience quite like Kelly Reichardt. In our modern-day release swirl of superhero sagas, elevated horror, and Oscar hype machines, her patient and thoughtful perspective on the world feels even more necessary. Reichardt's films almost always deal with the theme of survival, and more specifically how times of collective transition become quietly unflinching and potentially devastating for people who no longer have a place to call home. She's fascinated by what motivates these wayward souls to press on and endure inescapable patterns of financial hardship, emotional malaise, and ideological frustration despite societal indifference. Sensing that the stress and anxiety of modern life could potentially consume all hope, her yearning, loving camera looks to nature for solace, and a chance to calm one's mind in times of distress (the perfect antidote to coronavirus panic attacks!).
As a result, her films double as intimate portraits of American landscapes, vistas that become symbols of stability in trying moments, specifically the topography of northwestern states where forests and mountains are bedfellows of burgeoning rural communities (see the opening shot of Certain Women). Reichardt doesn't frame these spaces lyrically or poetically; they are real places inhabited by frustrated working and middle-class folk. But with time, the characters come to represent a certain duality between serenity and self-doubt that tends to exist on the same horizon. Ultimately, Reichardt sees the modern struggles of isolation as a byproduct of our ever-present fear of disappearing, of feeling unheard, of falling into the cracks of society.
America's raw materials - greed, ambition, and friendship - are familiar themes within the Western genre. But Reichardt's beautiful, sublime new frontier saga First Cow (opening Friday, March 20th in San Diego, I think) envisions them anew, even as interchangeable forces seamlessly propels us forward in the direction of our own graves. For this reason and many others, the film feels like a kindred spirit to Jim Jarmusch's b/w masterpiece Dead Man, a 1995 revisionist western starring Johnny Depp as a meek East coast accountant who shares the same name as the poet William Blake. After traveling west for a job that never materializes, he meets a fellow outcast named Nobody (Gary Farmer), who is part Piikáni (Blackfoot) and Apsáalooke (Crow). Through their meandering, sometimes violent experiences Blake becomes mentally and spiritually transformed by the genocide, cultural tension, violence, and economic rot of the old west.
First Cow grapples with similar tensions, albeit through a much more restrained and melancholic lens. But Dead Man's energy can be felt throughout - Reichardt's latest begins with a quote from Blake's Proverbs of Hell: "The bird a nest, the spider a web, man friendship." Then there's an inverse mirroring effect in the film's opening shots: Dead Man starts inside a fast-moving train, whereas First Cow initially trains its gaze on a slow-moving shipping freighter quietly gliding down an Oregon river that doesn't seem wide or deep enough to handle this massive vessel. "Progress" happens at many different speeds.
The act of unearthing some long-buried bones transports First Cow's story from the present day back to the 1820s and Oregon's bustling forest economy fueled by beaver pelts and soft gold. There, we meet Cookie (John Magaro) a kind, empathetic, and quiet cook/baker who has ventured from his East coast origins into this unforgiving masculine territory after partnering up with mouthy fur trappers. During one foraging mission through the underbrush, he encounters King Lu (Orion Lee), a Chinese immigrant who's on the lam.
The two develop a deeper friendship after settling down in one of the local encampments. Unlike most Westerns, Reichardt's vision reflects the diversity of a burgeoning community founded on opportunities and consequences tied with Manifest Destiny. Then the titular cow arrives, brought upriver to provide milk for the wealthy local magistrate (Toby Jones). With this bovine…temptation comes. "History isn't here yet," King Lu says to Cookie at one key turning point, sensing a shared business venture but fully realizing that any capitalist opportunity has an expiration date.
The slyly unassuming script for First Cow, which Reichart adapted with Jonathan Raymond from his novel The Half Life, elides plot and exposition for subtle moments of character building and conversation. The strange thematic overlapping between it and Dead Man never ceases, and Jarmusch's film provides a fascinating counterpoint to Reichardt's meandering tale of inescapable ambition. Gary Farmer shows up in a supporting role, almost like a strange caricature of his iconic Nobody, and there's also a specific emphasis on the flora and fauna of frontier locations (creeks, clearings, crevasses) beautifully realized by Reichardt's longtime cinematographer Christopher Blauvelt. Despite these poetic interludes, the grim realities of human selfishness and deterioration remain omnipresent.
With First Cow, Reichardt continues her unhurried exploration of friendship as a means of survival and harbinger of doom. Think Wendy and Lucy. Think Meek's Cutoff. Think Old Joy. But here, the aching sense of time passing feels even more organically tied to its surroundings (not surprisingly Reichardt thanks experimental landscape filmmaker Peter Hutton in a postscript). All in all, moment to moment, First Cow shows her unique understanding of our many human contradictions, feelings we all recognize but can rarely verbalize. Our strongest and most vulnerable points are often interchangeable.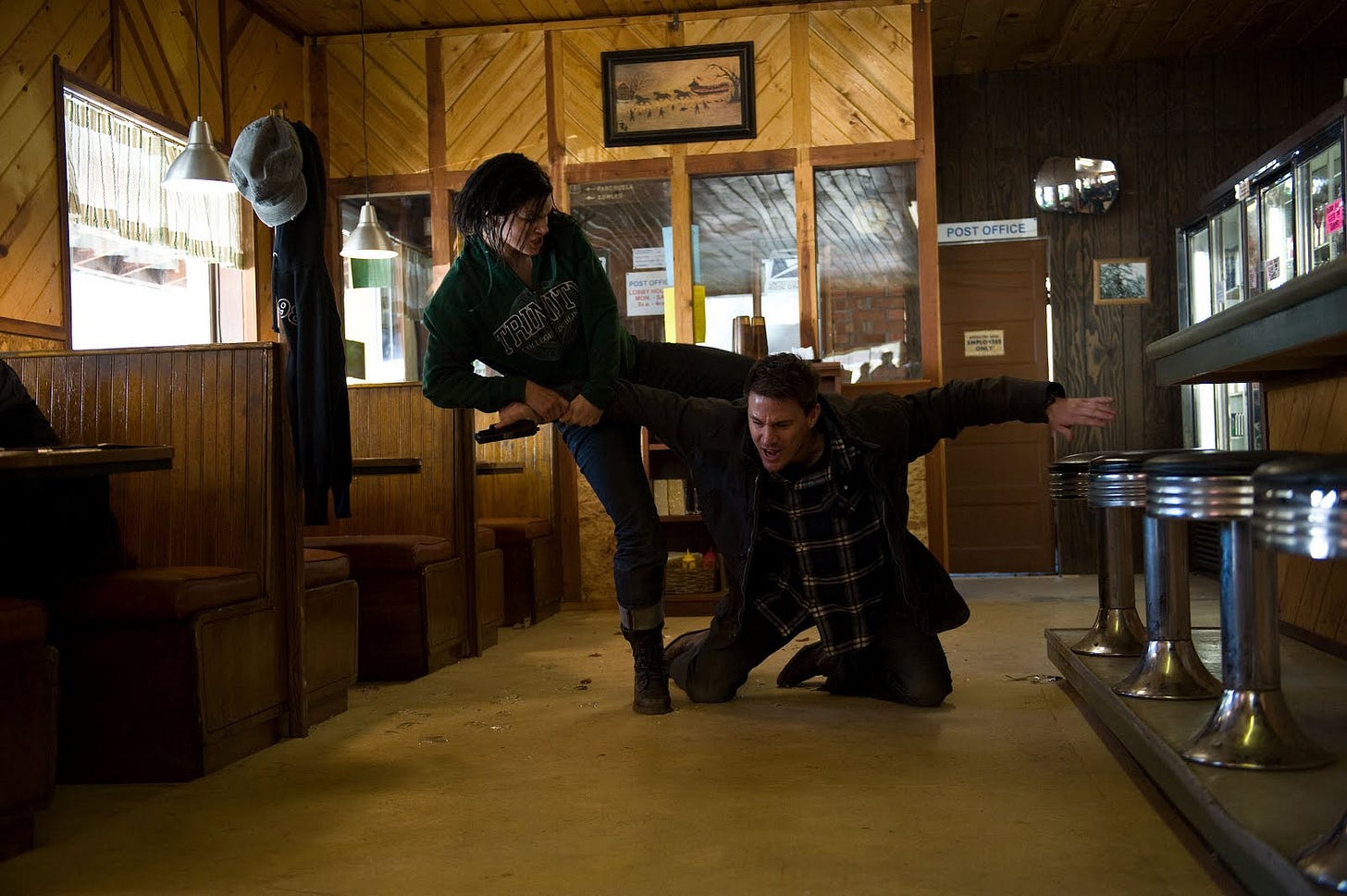 Going Haywire
My inaugural Afterglow streaming recommendation arrived on Netflix this month. Haywire is one of those absolute bangers that once it starts, there's no stopping me from watching it. There's also no stopping Gina Carano's Mallory Kane, the tenacious, powerful, indestructible special operative who fights and kicks and shoots and mauls her way through Steven Soderbergh's 2011 action masterpiece.
Most genre films of this ilk would try to play up the tradecraft intrigue with slick narrative exposition and special effects, but Soderbergh does just the opposite, stripping the spy movie construct down to its most elemental parts. Mallory's few extended dialogue scenes prove to be measured, showing her to be a tactical warrior but also someone who can improvise on a moment's notice. The fight sequences are often filmed in continuous takes to show off the physical skill of the performers, specifically Carano, an MMA legend. Her fight scenes are hand-to-hand symphonies, pummeling in their close proximity, realistic timing, and sudden finality.
Released at the end of Soderbergh's "experimental phase", which began with DV oddities like Full Frontal and Bubble and came to full fruition with 2009's The Girlfriend Experience, Haywire remains the director's perfect synthesis of effortless craft and daring thematic ingenuity, i.e., his continuous need to recalibrate the "rules" of narrative filmmaking.
Locals Only
This section will eventually focus on San Diego film events worthy of your attention, but for the time being, it will remain dormant until public life gets back to normal.
PS, I Love you…
Again, thank you for reading. Truly. Writing can be a lonely endeavor but knowing that people are reading your work makes all the difference. And if you find this newsletter especially valuable, please consider the paid subscription which will help support this endeavor in the long term.
Until next week…
GHJ