Burt Lancaster, GOAT
Hollywood's most volatile wildcard never shied from confrontation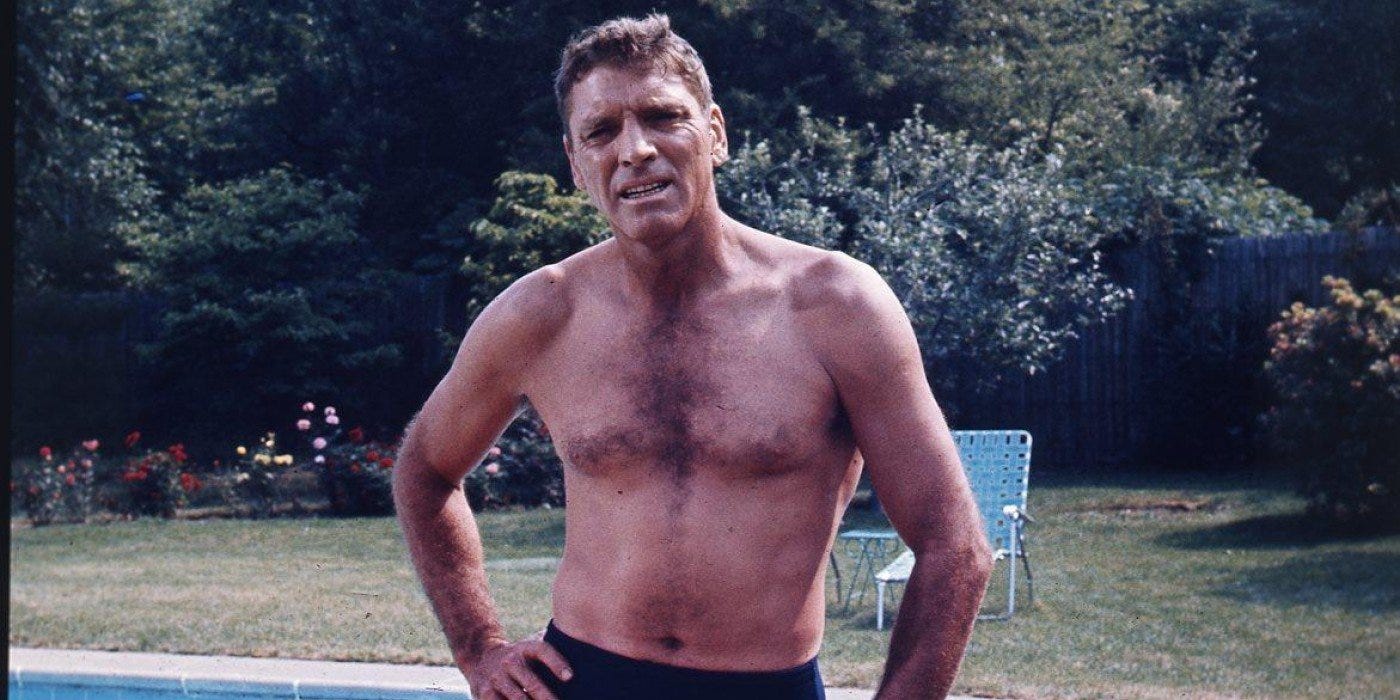 Burt Lancaster's smile almost looked like a grimace. It had attitude. It could sink ships and careers, spell disaster for politicians and gunslingers alike, incite riots and rebellions. Things would get really messy right after it appeared, and predicting what would happen afterward was pointless. But afterward, you knew nothing would be the same.
This was a man who always made an impression, onscreen and off. Lancaster might not have had the charm of Cary Grant, the nobility of Gary Cooper, or the idealist resolve of Humphrey Bogart, yet didn't really need to employ those traits. He had something else…bristling and unnerving confidence, the kind that turned his barrel-chested physique into an unstoppable cannonball. That's not to say Lancaster couldn't be charming, noble, and idealistic when necessary, and he often deliberately spiked those classic Hollywood star traits with a volatile twist. But it was his unflinching ability to harness the momentum of any given moment, big or small, that made him such an iconic onscreen presence. He sewed chaos simply by entering a room and inspiring those who followed his lead. I'd be hardpressed to think of his modern equal. Denzel perhaps?
Over the course of his sterling five-decade career, Lancaster witnessed massive technological and social shifts in the film industry. Nevertheless, he flocked to characters who seemed uniquely resistant to change. These were men skeptical of institutions and governments, American heroes and psychos, con men and demagogues who favored acts of brazen action, be it physical or philosophical, and thrived on endless impulsiveness to shake things up. Lancaster's characters felt that the modern world deserved someone with a temper, and understood how their fellow citizens not only flocked toward violence but respected it.
My favorite Burt Lancaster films - The Sweet Smell of Success, The Train, The Swimmer, Ulzana's Raid, Twilight's Last Gleaming, and Atlantic City - each showcase his virtuoso intensity and bravura. But they also reveal repressed vulnerability and pain living under the surface. These weathered men are forced into a corner by history and circumstance and must react accordingly.
In the last few weeks, I've been catching up on some Burt Lancaster blind spots. What a joy it's been to be in his heightened presence.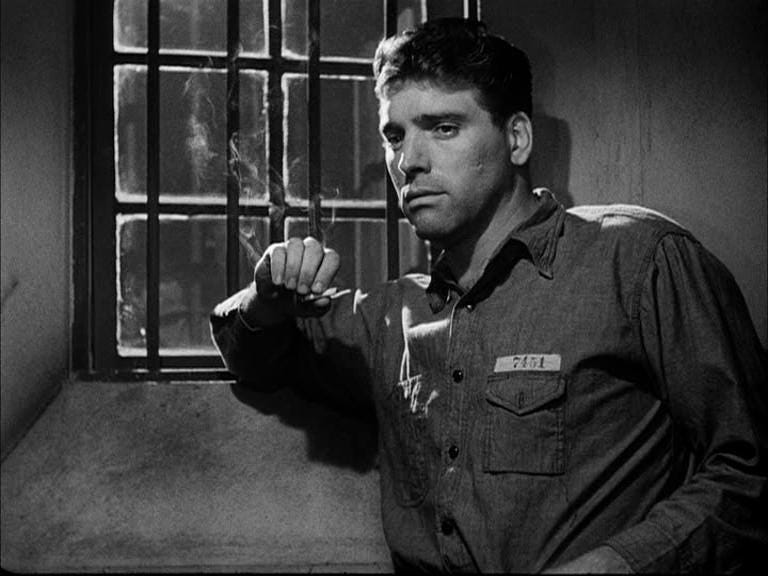 Brute Force (1947) is a nasty, punishing prison movie. Lancaster stars as Joe Collins, an ambitious inmate who's dead set on escaping in order to see his dying wife one last time. Only Capt. Munsey, a sadistic and equally enterprising prison guard played by Hume Cronyn (aka Mr. Jessica Tandy) stands in his way. While the two men rarely share the screen, you can feel their mutual hatred piercing through cellblock walls with each simmering maneuver.
On the surface, this was billed as a message movie about America's broken prison system. But Brute Force never panders to the pitfalls of the social issue melodrama. Instead, it's fierce narrative mirrors the squeeze of a vice grip slowly crushing the life out of broken men who simply want to remember the warmth of their past lives (depicted here in short but efficient flashbacks). No such solace awaits.
Director Jules Dassin's first foray into the crime picture showcases a tensely paced, constricting narrative about well-laid plans that can only go wrong. At the center of it all is a young, cool-as-ice Lancaster, starring in only his second feature film. His seething anger and resentment for authority would carry over into many future roles, especially those where societal expectations came into direct conflict with the hard-charging confidence. Trouble (or death) would often await.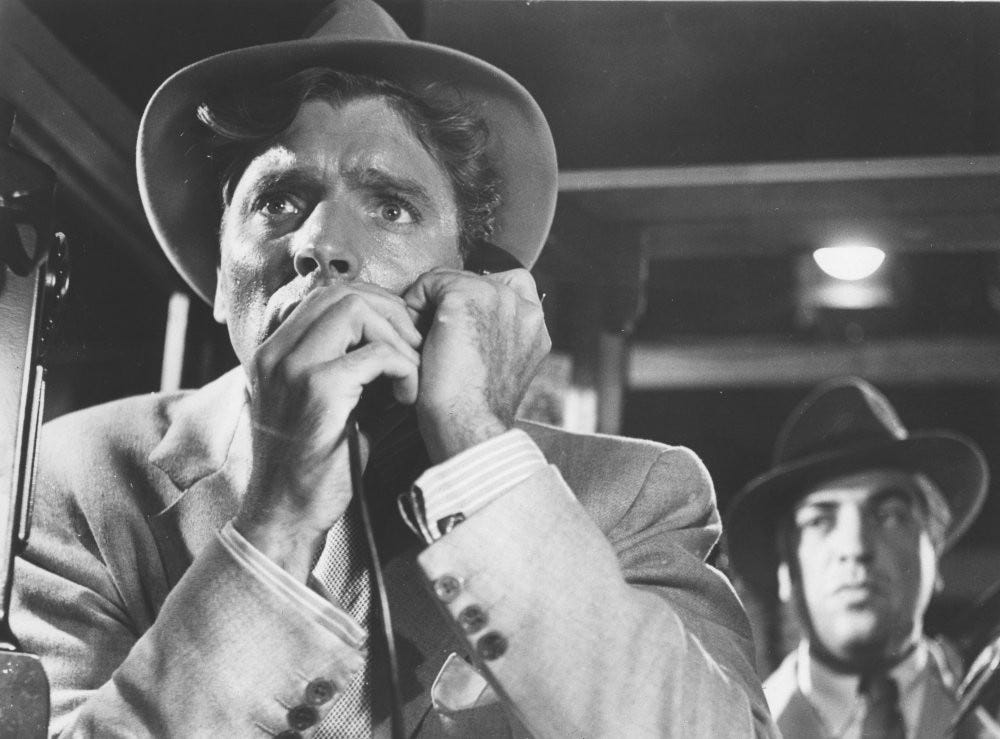 Knowing what we do now about the trajectory of Lancaster's storied career, it's almost shocking to see him playing such a pouty lowlife in Sorry, Wrong Number (1948), a fun if not gimmicky thriller of the post-war era. Similarly to the film's narrative, he plays second fiddle to Barbara Stanywk's bedridden socialite. She has made Lancaster's blue-collar college boy her permanently impotent arm candy, and the two characters have been needling each other for years. Their marriage is on the decline.
As the murder-for-hire plot plays out almost entirely in flashback, what's most striking is how Lancaster's performance as Henry J. Stevenson becomes quietly stripped of the very confidence audiences would later come to associate with his persona. Initially, this debonair hunk has romantic options aplenty, but the second this man gets married he quickly devolves into a frustrated, blubbering mess who resorts to a haphazard felony as the only means of escape. It doesn't seem like Lancaster enjoys playing such an impotent louse, but he owns the performance nonetheless.
More in line with the wild Burt Lancaster that I love so much is his character Joe Erin in Robert Aldrich's Vera Cruz (1954). After venturing south of the border in 1867 hoping to make a profit fighting for the French colonialists in Mexico against local rebels, Erin and his gang come across Gary Cooper's similarly opportunistic ex-Confederate. Constantly in competition with each other, the young hothead meets his match in Cooper's disgraced southerner, a stiff upright corpse who has about as much personality as a wooden spoon. Both characters come to embody the classic tension between contrasting Hollywood star archetypes vying for the audience's affection, old vs. new.
To say Lancaster steals every scene would be an understatement. An extended set-piece involving the roughneck cowboys causing havoc while attending the court of Maximillian beautifully narrows the gap between monarch and scoundrel. Later, Erin's misanthropic gasoline needs only a single gunshot to ignite, and once things kick off there's no stopping him. Vera Cruz doesn't rank highly with the best of 1950s Western cinema, but it' provides a showcase for Lancaster's tenaciousness to see things through until the end, body count be damned.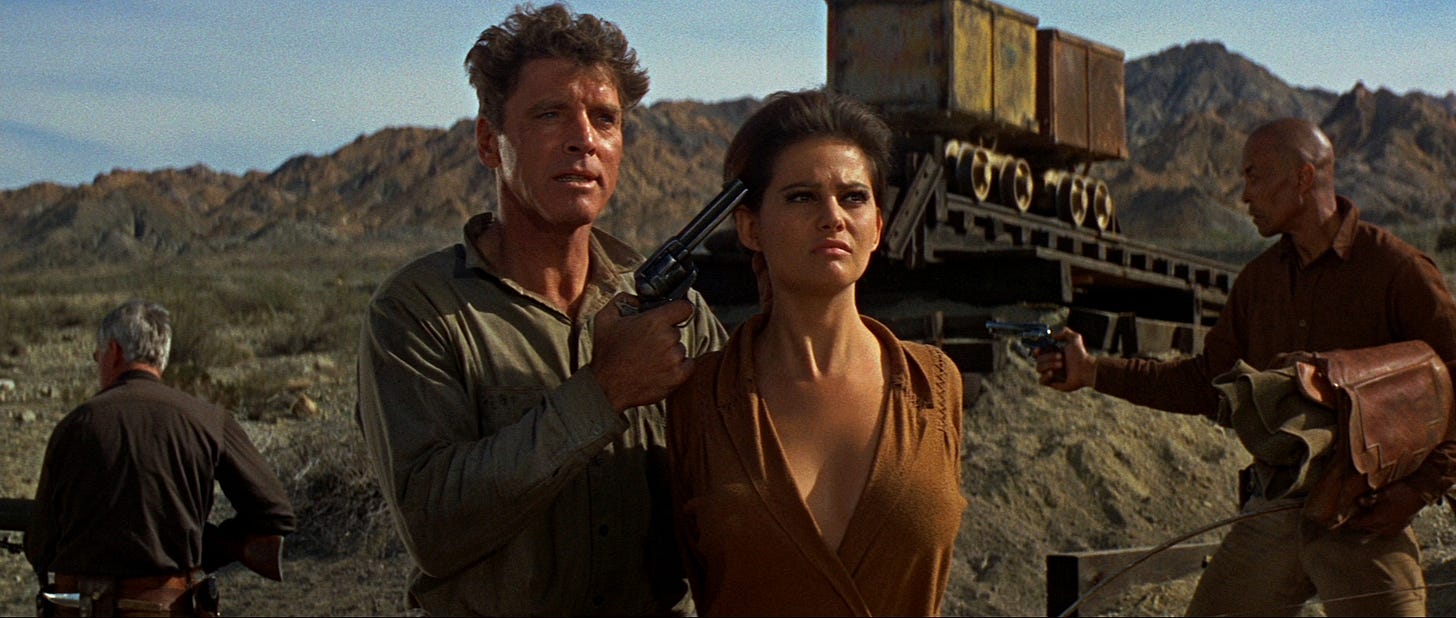 Watching Vera Cruz in such close proximity with Richard Brooks' well-crafted "men on a mission" Western The Professionals (1966) reveals an intriguing lineage with Lancaster's gunslinger canon. The film almost plays like a sequel to the aforementioned, and a prequel to Sam Peckinpah's The Wild Bunch. It also takes place mostly in Mexico and deals with American imperialism encroaching southward under false pretenses.
Here, Lancaster plays a career mercenary with a thing for explosives and married women. Following the scent of gold, he takes a job working with his former partner (Lee Marvin) to rescue the kidnapped wife (Claudia Cardinale) of a powerful railway magnate (Ralph Bellamy), joining a team that also includes a horse wrangler (Robert Ryan) and marksman (Woody Strode).
A Technicolor marvel, The Professionals looks incredible thanks to the lush widescreen cinematography by legend Conrad L. Hall. Working in tandem with the film's visuals, Lancaster's squirrely performance amplifies the innate possibility of each scene. While Marvin and Robert Ryan seem hogtied by narrative machinations, Lancaster becomes unchained from any boundaries or limitations placed on him by the story. Like so many a Lancaster turn, The Professionals comes fully alive whenever he's onscreen.
Eager to watch these films yourself?
If you're interested in getting Afterglow newsletters sent directly to your inbox, please hit the Subscribe Now button. If you feel like it's especially valuable, I'm offering 50% off all paid subscriptions. Any support is much appreciated.
Until next time,
GHJ