Déjà Vu: CUT THROAT CITY (2020)
On the enigmatic, gap-riddled new gangster film from THE RZA
This Afterglow newsletter is reserved for paid subscribers like you. I hope you continue to enjoy this project and thank you for your continued support!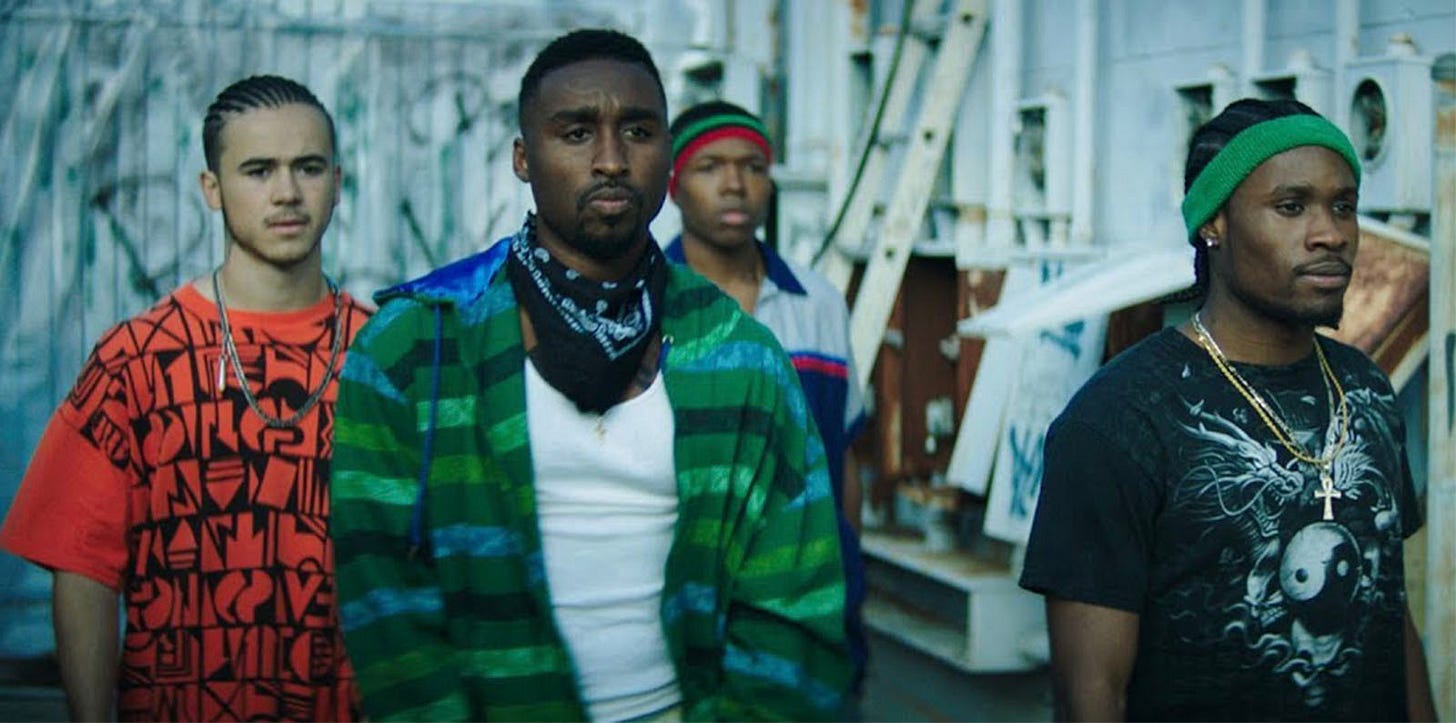 Here we are again. Another unarmed Black man (his name is Jacob Blake) gunned down by police in Kenosha, Wisconsin, shot in the back seven times in front of his three children. Here we are again. Another wave of protests, walkouts, boycotts. More racist, vile, bullshit from the GOP and the failed, corrupt U.S. Executive Branch. Here we are again. NBA players like Lebron James standing up at the forefront of the Black Lives Matters movement, trying to leverage their star power and influence to make real change. Here we are again. More and more and more people dying of a virus that knows no political affiliation, while still so many deny it even exists. Here we are again. Apathy, pain, and uncertainty.
Our volatile, stressful current moment mirrors the panicked days and weeks that followed after Hurrican Katrina decimated New Orleans on August 29, 2005, specifically Black and Brown communities like the Lower Ninth Ward. This is where RZA's new crime film Cut Throat City takes place, and outside of the flip phones and occasional pop culture reference, it appears eerily similar to the lucid, neverending nightmare that is 2020.
Really though, it's a nightmare that communities of color have been experiencing long before Mr. Blake, George Floyd, and Breonna Taylor. Long before the Civil Rights Movement. Long before Jim Crow, and even the Civil War. That sense of incurable, malignant déjà vu permeates Cut Throat City and its disjointed, at times bewildering narrative, connecting the bloody and blurry dots of American history in an attempt to reconcile why our country's social justice failures continue to happen. The results aren't pretty, but why should they be?
Most people will know RZA as a musician and record producer who helped form the Wu-Tang Clan in 1992, still one of the most iconic rap groups ever. But he's also a student of film history, and more specifically Kung fu cinema, the influences of which have inspired his music and filmmaking career since the very beginning. His work as a composer is as prolific as his rap career. As an actor, RZA had supporting roles in everything from Ridley Scott's American Gangster (2007) to Judd Apatow's Funny People (2009). But his most memorable turns have come in Jim Jarmusch films like Coffee and Cigarettes (2003) and The Dead Don't Die (2019).
Before Cut Throat City, RZA directed the slice-and-dice throwback The Man With the Iron Fists (2012) and a present-day romance entitled Love Beats Rhymes (2017). Both films seemed to come and go without much notice. Hopefully, his latest gets a bit more credit from critics, but I'm not holding my breath.
The reason for my cynicism has to do with the fact that Cut Throat City is a disaster from a traditional narrative perspective, and ultimately a paint-by-numbers gangster film. Most critics don't have the patience or imagination to look beyond the surface of a film's facade, and that's exactly what RZA is demanding here.
Beginning with an outer space view of Earth, the film tracks Hurrican Katrina as it makes landfall. The camera dives down into the eye of the storm before surfacing in a graphic novel world where four young men battle it out with a gang of white supremacists. The fictional action of good vs. evil quickly dissolves into the stagnant, sweaty reality of Blink (Shameik More), a young Black comic book artist responsible for the kinetic images that proceeded. It's his wedding day, and spirits are high. Before tying the knot, Blink drinks merrily with life-long friends Andre (Denzel Whitacker), Miracle (Demetrius Shipp Jr.), and Junior (Keean Johnson) in the back of a van. Katrina is imminent, but no one is thinking about it too much.
Even after Katrina hits, Cut Throat City pays the event very little mind. The Lower Ninth Ward is hit hard, but aside from the random washed up boat and flooding, not much has changed. They were underwater before the storm hit. FEMA's presence has only added to the general distrust of the government.
Trying to sustain some sense of normalcy and forward momentum for his new family, Blink goes to a job interview at a fancy design firm, but his talent is quickly compartmentalized and reduced by an arrogant industry type. With bills and hopelessness piling up, he and his friends decide to rob a local casino for notorious local gangster Cousin (an incredible T.I. Harris). Of course, the shit hits that fan and speckles everyone in the process.
From here, trying to follow Cut Throat City's convoluted plot quickly becomes a fool's errand. The film's more interested in the weight and presence of specific scenes, in which great actors give moving, passionate monologues about the cyclical horrors of history, police brutality, white racism, institutionalized corruption, and their culpability in precipitating each. More often than not, these scenes feel like daring one-acts that don't really cohere together as a whole, except around the lingering idea of déjà vu.
What's most interesting about RZA's vision is how he uses the younger generation of characters, who are mostly chained to the archetypes and motivations of crime cinema, to challenge the older guard of NOLA henchmen, gangsters, and city councilmen who've become stuck in the rot of their own making. Ethan Hawke, Isaiah Washington, T.I., Wesley Snipes, and Rob Morgan (one of our finest character actors) each get a show-stopping moment to reflect on their past and future, neither of which paints a pretty picture.
Cut Throat City is a challenging film in that it dares us to piece together a fractured narrative about something that is inherently American and broken; a system, a democracy, a dream. And of course, one of the final images is of a young black man being mercilessly shot by a row of white policemen. Even when it's revealed that this scene and outcome may, in fact, be an alternate reality, the feelings of helplessness, grief, and loss it conjures up are very real to the America of today. Which just isn't that different from the America of yesterday.
——————————————————————————————————————
Until next time,
GHJ