Heaven and Hell on Earth: THE DEVIL ALL THE TIME (2020) and BILL & TED FACE THE MUSIC (2020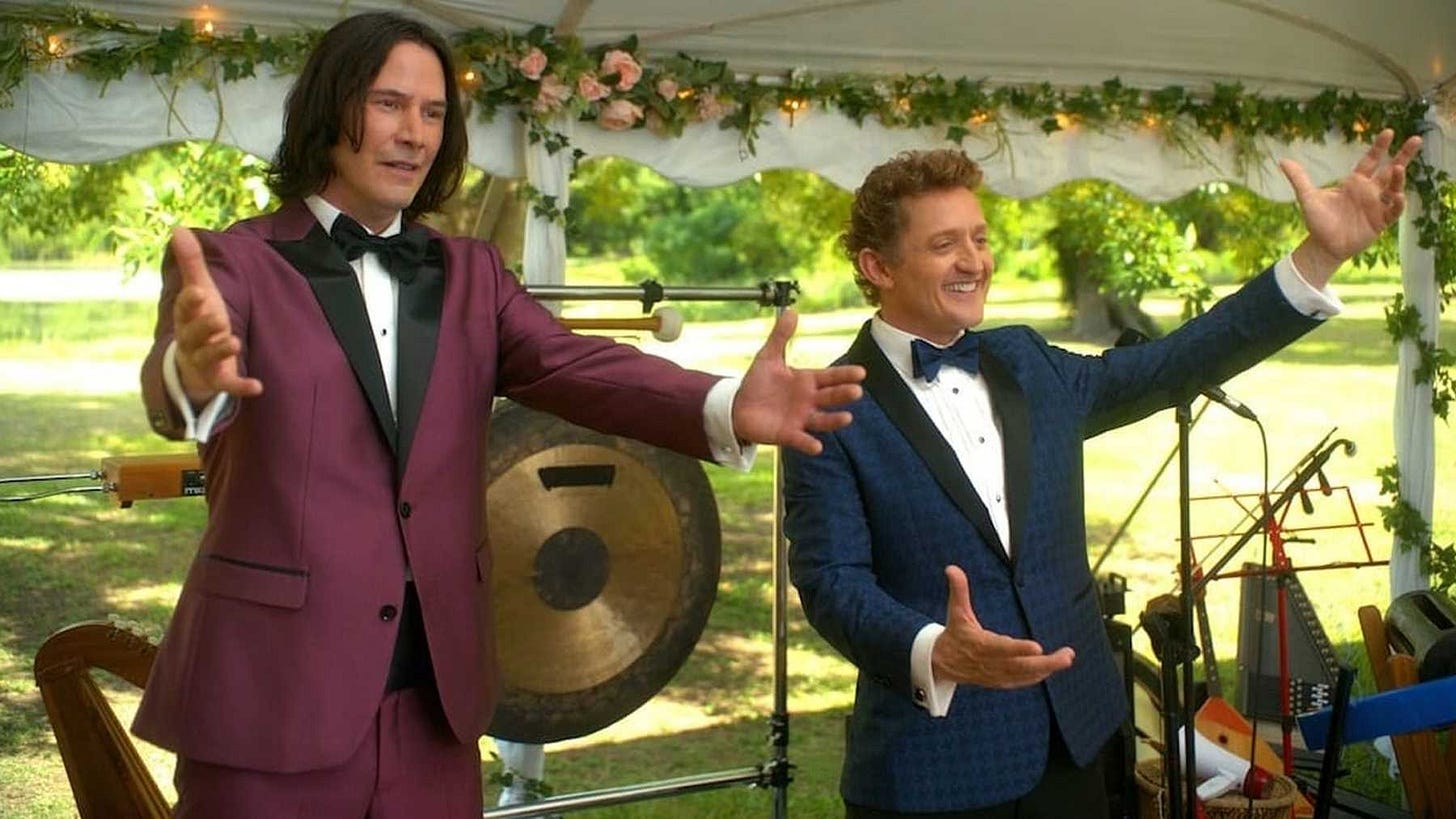 Purgatory
How can I feel good about things when everything sucks so hard?
Surely, this has been a common sentiment shared between sane people these days. You know, the people who aren't racist, who don't blindly follow a cult leader posing as president, who sincerely understand the climate crisis and need for police reform and racial justice, who take the COVID-19 pandemic seriously and wear masks, and who want this country to confront its genocidal and prejudiced past in meaningful ways. You know, those people.
The ongoing internal battle between hope and doubt, optimism and cynicism, has no doubt become amplified in the hellscape that is 2020. It's something that's been rattling around in my own head long before COVID-19 brought the modern world to its knees. Like so many Americans, I've felt this constant, numbing anxiety ever since Trump's victory in 2016 poured cold water over the delusional euphoria much of the privileged (i.e Western) world felt during the Obama years. It's just only come to a raging head in the last six months.
So how does one survive the pervasive onslaught of negativity when you've got real family and work responsibilities that demand your full sunshine face? Shit, who knows. In my case, I often lean on movies to guide me toward some solace and understanding, a way to make sense of feelings I can't otherwise express.
Recently, two genre films of varying quality presented competing worldviews about the relative worthiness of humanity in general, and they couldn't have offered more strikingly different takes. Somehow thinking about what they tell us about us made me feel momentarily better about everything.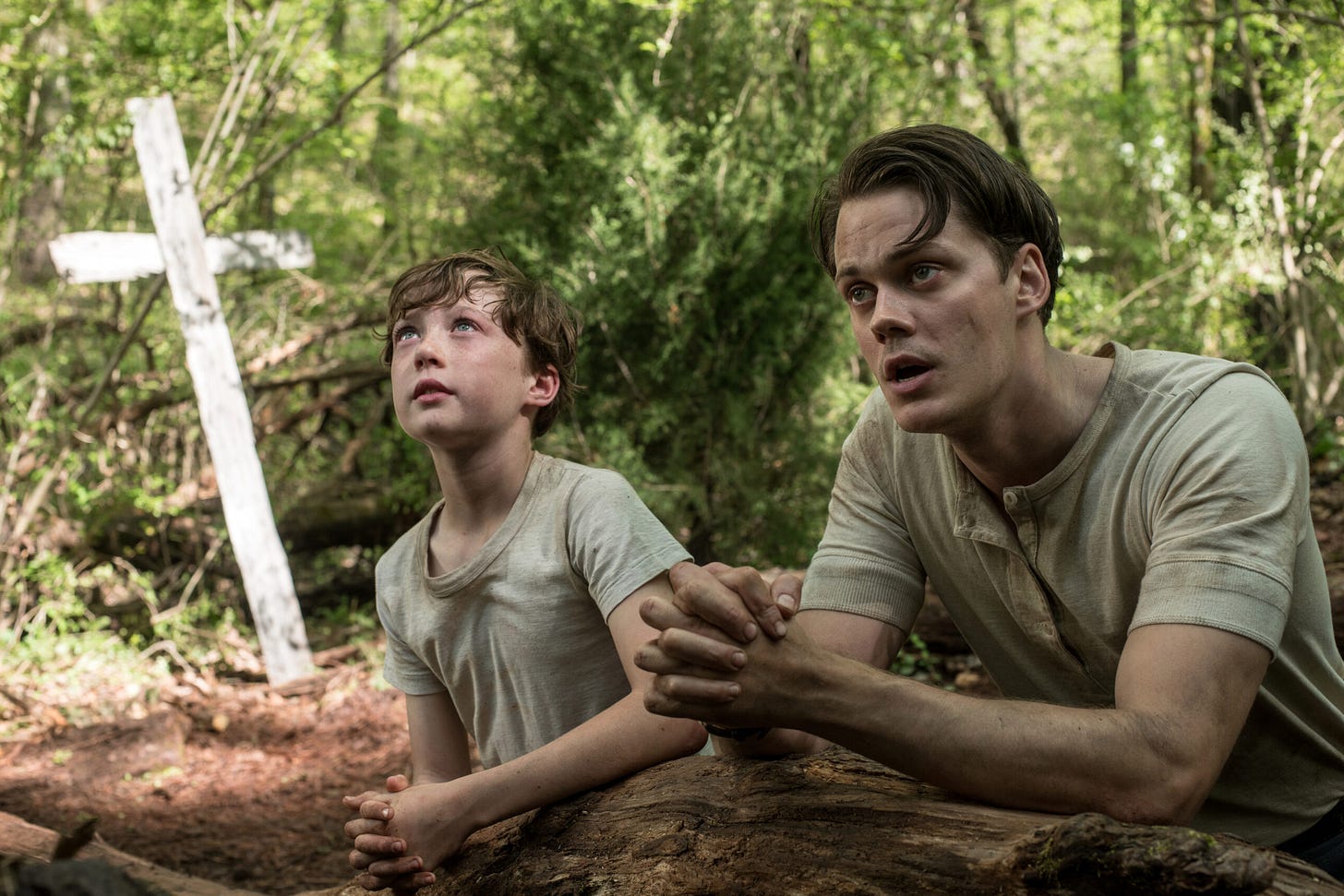 Heaven
American filmmaker Antonio Campos is obviously interested in the psychology of psychopaths and tormented souls. America's got plenty to go around these days. But only his excellent debut - the voyeuristic online prep academy nightmare Aftershool (2008) - convinced me he's got anything original to say on the subject. Simon Killer (2012) has its moments of innovative subjectivity, and Brady Corbet's maniac performance, but otherwise it's just another in a long line of indulgent portraits of American evil abroad. Chrisitne (2016) took the story of an infamous on-air 1970s suicide by a Florida news reporter (played with steadfast conviction by Rebecca Hall) and turned it into a fragmented character study of diminishing returns. Each involves characters who feel impotent to the traumas they witness in the world, and either choose to become active participants in the horror or erase their identities altogether.
With The Devil All the Time, Campos graduates to a true ensemble made up of disturbed killers, naive lambs, and oppressive religious zealots. Set in post-WWII rural Ohio and West Virginia, this adaptation of Donald Ray Pollock's novel portrays a mosaic of rotten or aggrieved people whose suffering is nearly always connected to questions of faith and purpose. The author himself serves as an omniscient narrator laying down ruminations and foreshadowings with abject detachment.
At the center of this misery-inducing whirlpool is ex-soldier Willard Russell (Bill Skarsgård), who returns home from fighting the Japanese haunted by memories of a crucified Marine screaming for mercy. Willard's devoutly Christian family immediately tries to indoctrinate him back into the church, setting in motion a series of pulpy narrative threads that overlap and collide at various points in the film.
From the appearance of our lord and savior, Robert Pattinson, as a loathsome young preacher to Jason Clarke and Riley Keogh doing their best Honeymoon Killers impression, each of the subplots feeds into Campos' overt treatise on the obvious contradictions of religion as an institution. Heaven is a place often referenced in The Devil All the Time, but the characters' heinous actions dispel any need to take it seriously. In such trying times for the world, this film decides to embrace misanthropy in the same ways Trump does with white supremacy.
It's not a hateful film, but I'm sure some hateful people will get off on it. As he's done in the past, Campos lays the anguish on thick, and in the most artfully banal way possible. Instead of envisioning anything worthwhile about humanity, he presents it collectively as the living embodiment of cyclical suffering where anger and rage are passed down through generations. Religion is just a way to delude ourselves into seeing anything other than the devil when looking in the mirror.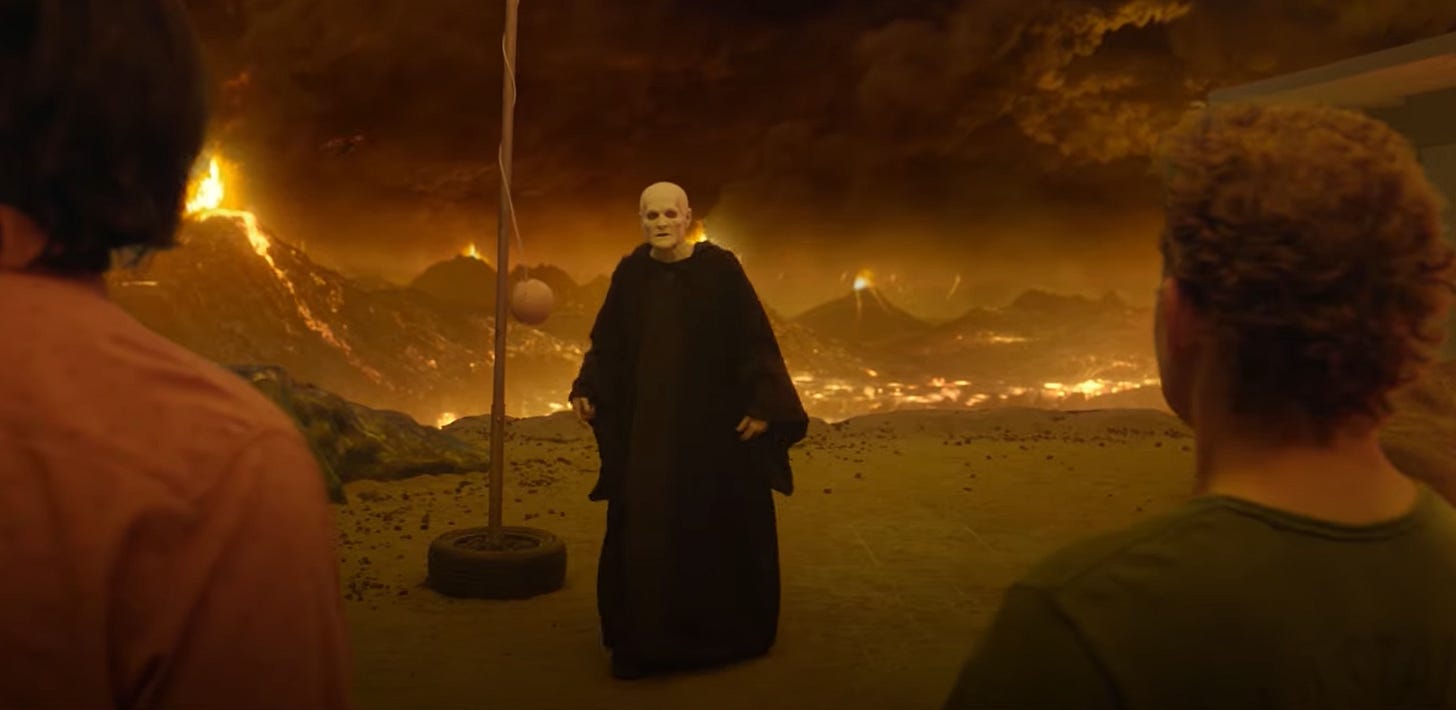 Hell
I wasn't originally going to write about The Devil All the Time. It's not that good on its own merits. But when juxtaposed with the jovial, loving throwback Bill & Ted Face the Music directed by Dean Parisot, it seemed that these two films were worthy adversaries, in conversation somehow, and provide fascinating counterpoints to the question of mankind's future prospects.
For those of you who are not familiar with my viewing habits as a 10-year-old, Bill and Ted's Excellent Adventure (1989) was early canon in the Heath household, right up there with Willow (1988) and Oliver & Company (1988). I distinctly remember loving Keanu Reeves and Alex Winter's genuinely kindhearted and goofy performances, and how they came to appreciate exploring history through a non-linear lens.
Bill & Ted's Bogus Journey (1991) wasn't nearly as good. Then Keanu Reeves became a superstar. For nearly thirty years the slacker characters of Theodore "Ted" Logan and Bill S. Preston remained shelved as if they were waiting for a dire moment in time to return (cue 2020).
Bill & Ted Face the Music lovingly anticipates our global reckoning because the entire narrative revolves around the San Dimas duo jumping through their own future timelines trying to stave off a global disintegration and the erasure of human history en total. This time, they are aided by their teenage daughters (Samara Weaving and Brigette Lundy-Paine, total hams) who travel back in time to recruit musical legends like Jimi Hendrix and Louis Armstrong to assist their father's band Wyld Stallyns in performing the one song that will save the world.
There's much fun to be had watching Reeves and Winter "dude" it up again, and Bill & Ted Face the Music becomes a seamless testament to generational trust, goodwill, and collaboration. The film is essentially a series of breezy, time-bending threads that only eventually synch up when every character begins confronting their role in the creation of a global disaster.
Even when Bill and Ted go back to hell and confront their old resentful bandmate Death (William Sadler doing god-level work) there's a sense that all aspects of the human experience (birth, life, death) must be represented while facing off with the apocalypse. I found that strange revelation so meaningful and rousing, much more so than the conveniently macabre posturings about spiritual malaise in The Devil All the Time.
If we're doing a "choose-your-fighter" type standoff with these two films, I'd much rather have the goofily sincere and hopeful comedy about hell on earth rather than backing a squalid southern gothic desperately reaching for the heavens.
Receive all future Afterglow newsletters electronically by clicking the subscribe button. This is a free and public post so please forward. Paid subscriptions are welcome and appreciated. Thank you!