Strange Days: Film Diary #1
Reflections on Cinema by Glenn Heath Jr.
It's only March and 2020 can kick rocks. Seriously.
The world has changed drastically since the first Afterglow post went out this past Monday (feels like a year ago amirite?). Most of us are spending lots of time at home, attempting to keep in touch with family and friends through various technological means and not go insane. Likewise, the film business has experienced its own earthquake of change and uncertainty. Movie theaters are currently shut down indefinitely, while studios and distributors are scrambling to adapt to what has become a new sequestered reality. Most companies are opting to stream their films on niche digital platforms or go straight to Video On Demand (VOD). Even our own Digital Gym Cinema has had to adapt to this model, so please support them if you can! Considering the climate of upheaval, I too will be throwing convention to the wind and changing up the format of this newsletter. It's my party and I'll cry if I want to…so on and so forth.

Right now, hopefully, Afterglow can function as a sounding board for not only myself but for you as well, a virtual community square for all of us to stay connected with our shared interest in film as the conduit. From here on out, each post will read more like a diary, with my thoughts on a host of diverse movies (old, new, good, & bad) that might also be of interest to you. Please comment, converse, and critique! As we all grapple with this collective new reality of social distancing, sheltering in place, and self-isolation, I hope Afterglow can represent a small respite from all the anxiety, fear, and racism that seems to be sucking up the good oxygen in the room. Lord knows we'll all need it.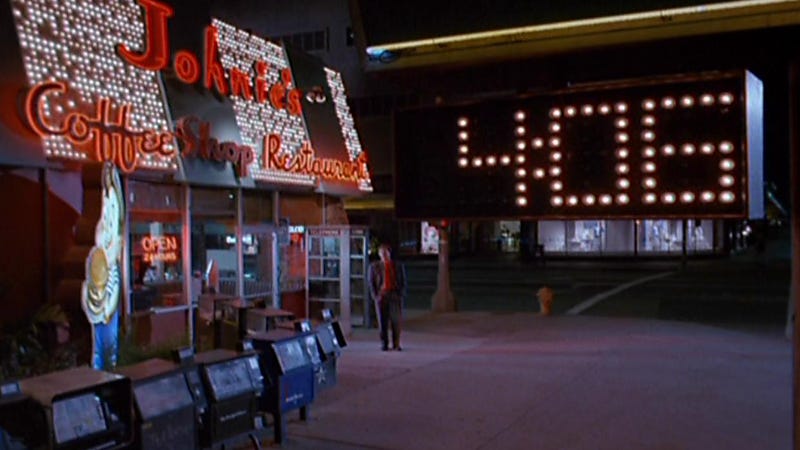 Miracle Mile (Steve De Jarnatt, 1988, Kino Lorber Blu-ray)
Picking a high-stress, ambitiously immersive apocalyptic romance for my first quarantine viewing was probably not the greatest idea, but here we are. What starts off as a tender meet-cute between jazz musician Harry (Anthony Edwards) and waitress Julie (Mare Winningham) quickly morphs into a thrilling, moment-to-moment disaster movie set in the heart of Los Angeles' Miracle Mile district.
Desperation and panic quickly set in as the looming threat of sudden annihilation become more pronounced. The film's frantic central characters have an hour-long headstart on the rest of LA before atomic bombs detonate, but that window of opportunity evaporates as circumstance, bad luck, and unrequited love splinter the narrative into multiple diverging, incomplete threads. Using an immersive synth score by Tangerine Dream to set the crazed mood, De Jarnatt brilliantly juxtaposes rampant 80s nuclear paranoia with the woozy romanticism of classical Hollywood cinema. You can get drunk on the possibility of any given scene.
Meshing these different tones in harrowing ways, Miracle Mile creates a truly singular experience where the viewer finds themselves caught between optimism and cynicism, fatalism and resilience. In the end, all any of us can hope for is the opportunity to spend the rest of eternity petrified (in all senses) with the ones we love. This film is both the beginning and the end of everything, all in one.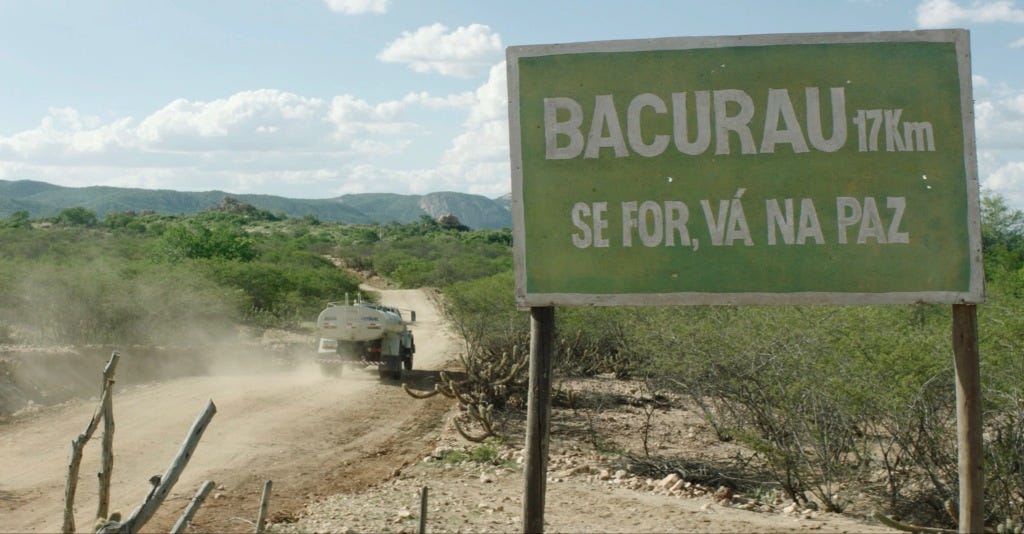 Bacurau (Kleber Mendonça Filho and Juliano Dornelles, 2019, KinoNow)
Rich people think they are better than everyone else. Rich people think poor people are weaker, dumber, and more inclined to fold under pressure. Rich people are so wrong. This angry, explosive Brazilian genre mash-up takes a machete to the institution of inequality and revels in the carnage. Paraphrasing one character, does it go too far? Eh, that's for you to decide.
Personally, I found this heightened revenge tale of a small rural community under siege by Euro/American wackos a fittingly brutal and absurd allegory for our times. The entire film revolves around the theme of erasure, and how class division and water insecurity only amplifies the disconnect between one person's reality and someone else's ridiculous fantasy. Instead of being consumed by fear or indecision, the tenacious residents band together (a la Assault on Precinct 13) via an almost supernatural sense of solidarity, a collective instinct that echoes back to the rebellion and violence of their ancestor's past.
Looking at Bacurau through the lens of the Western genre (or even Akira Kurosawa's samurai films), the filmmakers completely upend the presumed idea that common folks are noble souls in need of protection. Such a brilliant narrative subversion places specific responsibility and action on characters (the doctor, the teacher, the outlaw) who've been deemed passive or villainous by film history. Here, they are tasked with defending a communal ideal that transcends the physical or social wellbeing of individuals. Instead, inspiration stems from the historical memory of their topography, which conjures up remembrance, a shared spirituality, and identity that's needed to endure terrible horrors.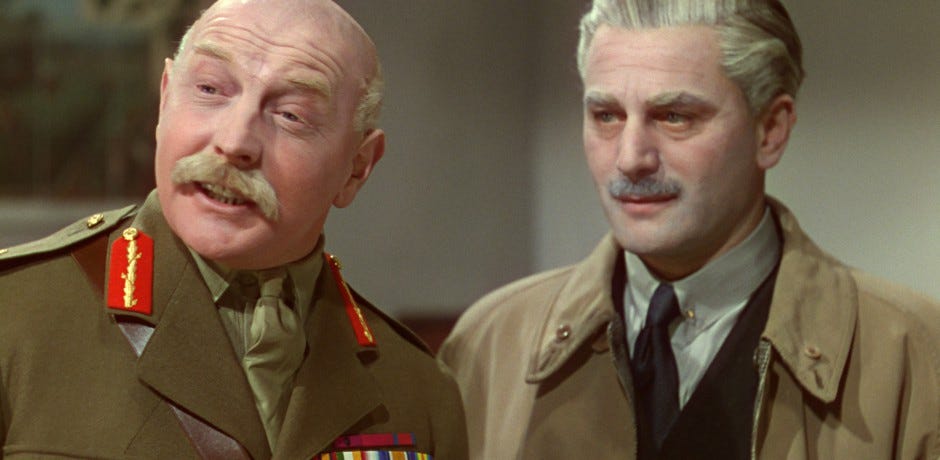 The Life and Death of Colonel Blimp
(Michael Powell and Emeric Pressburger, 1943, Criterion Channel)
I've been meaning to watch Colonel Blimp for upwards of 20 years since it's widely considered one of the greatest British films ever made, but it took a pandemic to finally get me to pull the trigger. Now I feel stupid for waiting so long. The nearly 3-hour film is perfection and whizzes by. It's incredible to think that there once was an era when movies were this densely packed with charm, melancholy, story, dialogue, and craft. But then again, Powell and Pressburger weren't your run-of-the-mill artists. If you aren't familiar with their amazing work, please check out The Red Shoes, Black Narcissus, and 49th Parallel on the Criterion Channel or elsewhere to get an idea of their lasting influence on the medium.
Taking its title from a satirical comic strip of the time, this epic and playful melodrama traces four decades of friendship between British military officer Clive Candy (Roger Livesy) and his German counterpart Theo Kretschmar-Schuldorff (Anton Walbrook). Throughout this time both men experience painful contradictions of nationalism, the throngs of broken-hearted yearning, and the horrors brought upon by global war, sometimes separately, sometimes together.
Deborah Kerr plays three different formidable women in their lives, bridging the emotional and literal gaps of history to provide a hint of linearity in times of great change. Instead of building toward obvious redemptive moments, Colonel Blimp takes its sweet time, languishing in the details of a person's complicated life, eventually building toward an awakening that feels tectonic in its simplicity. It is a film that manages to find grace, wit, and wisdom within one of the most fractured and terrifyingly brutal time periods in Western civilization. It's an example of what great art can look like when the world seems like it's coming to an end.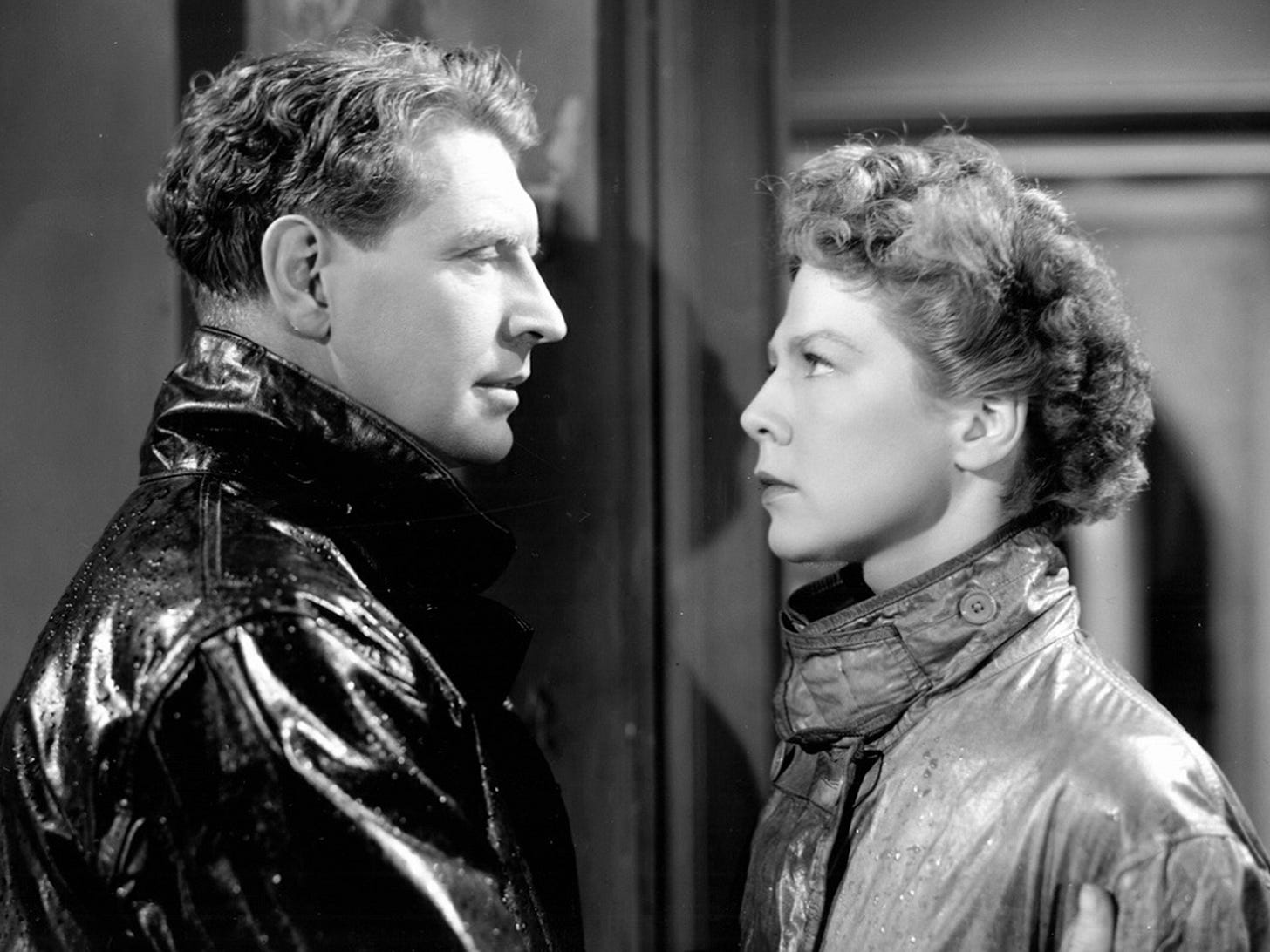 I Know Where I'm Going!
(Michael Powell and Emeric Pressburger, 1945, Criterion Channel)
Another grand P/P joint, entirely delightful and effortless in its skewering of capitalist entitlement in favor of traditional lore. More in the screwball comedy realm of Preston Sturges, albeit filtered through a stuffy British lens, the plot revolves around a driven young woman named Joan Webster (Wendy Hiller) who tirelessly makes her way from England to the Scottish countryside for an exclusive island wedding rendevous with an older, wealthier man. The breathless opening pace comes to a screeching halt once she reaches the last stop on her journey, a cozy coastal quagmire of a town brimming with Gaelic superposition and lovely locals.
The weather never permitting, Joan is forced to wait, and reconcile with her own gold-digging ambition and sudden feelings for Torquil MacNeil (Roger Livesey), an heir to the island castle wherein she's supposed to tie the knot. Feathery and fleeting compared to Colonel Blimp, this film nevertheless deals with similar lessons: true friendship is never based on exchanges or promises, but selfless acts of kindness and forgiveness.
Maybe it's because I watched them both in such close proximity, but I Know Where I'm Going! feels like kin to Bacurau most of all, since both belong to a long lineage of films challenging the elitist assumption that life's trajectory, nature, communities, or even someone's heart can be compelled to obey their rules and expectations. There's not enough money, power, or fame in the world to defeat the chemistry of a couple or a community.
Thanks for reading. Until next time…
GHJ
PS: If you have the means and enjoy this newsletter, please considering subscribing at the paid level. It's not necessary but completely appreciated!